Requirements
Official Textbooks: Holistic Wealth: 32 Life Lessons To Help You Find Purpose, Prosperity and Happiness and the Holistic Wealth Personal Workbook
Proficiency in English
Ability to spend 2 to 4 hours per week (for 8 weeks) dedicated to reading, viewing multimedia materials
Completing online interactive assignments in order to Become A Certified Holistic Wealth™ Consultant.
Features
High-Quality professionally produced video lessons
Printable modules (that combine to make a full Certified Holistic Wealth Consultant Book)
Off the cuff videos offering different teaching and perspectives related to Holistic Wealth
Licensing agreement (for use as a Consultant)
Office Hours with Keisha Blair (Get coaching with Keisha Blair to help you put the course material into practice).
Free downloadable printables and worksheets
A Full Holistic Wealth Portfolio Checklist (for use with Clients)
Target audiences
Who wants to gain a Holistic Wealth Certification in order to enhance their lives and careers. In addition, anyone who wants to enhance their leadership skills, and to offer services as a Certified Holistic Wealth Consultant.
Who wants to offer a more diverse value proposition for clients, by offering additional services and products to enhance their current business lines or to start a new entrepreneurial journey altogether. All entrepreneurs are welcome, regardless of their current industry or specialization. This program is suitable for everyone.
Those who want to gain a certification to add to their current credentials, in order to gain additional knowledge and offer services as Holistic Wealth Consultants.
Become A Certified Holistic Wealth™ Consultant
Become A Certified Holistic Wealth™ Consultant. The Certified Holistic Wealth™ Consultant Program expands on the Holistic Wealth Method™ developed by Keisha Blair, based on her highly acclaimed and award-winning book Holistic Wealth: 32 Life Lessons To Help You Find Purpose, Prosperity and Happiness. The book is loved by celebrities and influencers and the course is taught by Keisha Blair. The program offers an in-depth look at its principles and philosophy – and strategies for living a holistically wealthy lifestyle – including freedom over one's time and money. The program also teaches candidates what it's like to work with clients to develop a Holistic Wealth Portfolio and Blueprint. There's a big difference between applying the Holistic Wealth Method™ in your own life and applying it in someone else's.
We coach Holistic Wealth Consultants-in-training on effective leadership, how to listen effectively, support clients throughout their journey and guide constructively, as well as the key strategies embodied in the Art of Recovery from Disruption. The program includes a mix of assignments, videos and modules, ensuring that attendees feel adequately prepared for the next step of the certification process. Registering for and attending the Consultant Certification Program is the first step toward certification. You will be recognized as a Certified Holistic Wealth Consultant once you have successfully completed the Consultant Certification Program.
After successful completion of the program, Certified Holistic Wealth Consultants are free to launch out and set their own rates to consult with their clients. 
---
Testimonial
Hear What Alison Setton, Certified Holistic Wealth Consultant says about her journey to becoming a Consultant in this podcast episode.
________________________________________________________________________________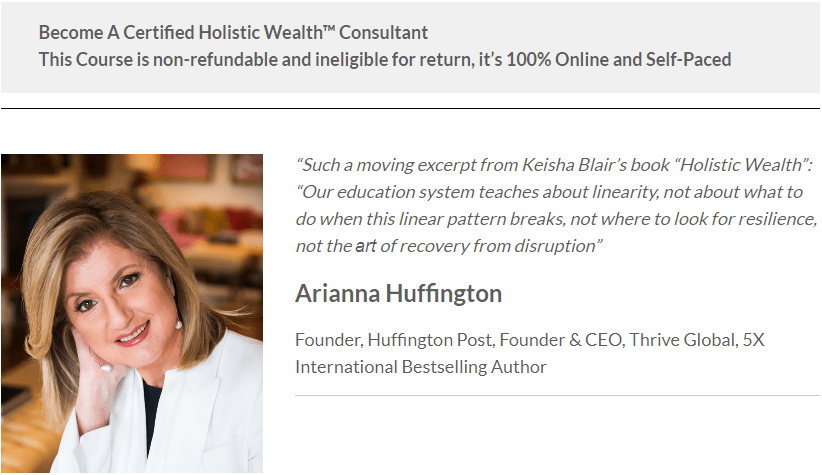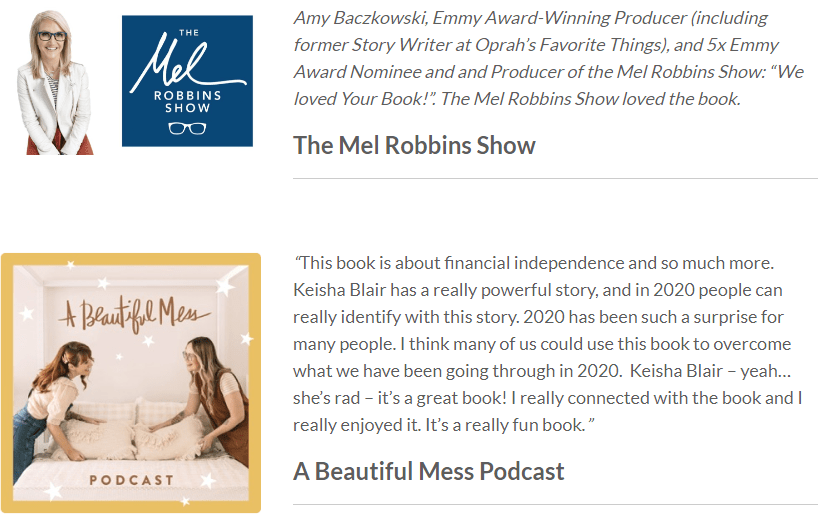 TUITION REIMBURSEMENT ALSO AVAILABLE THROUGH YOUR EMPLOYER
Become A Certified Holistic Wealth™ Consultant...